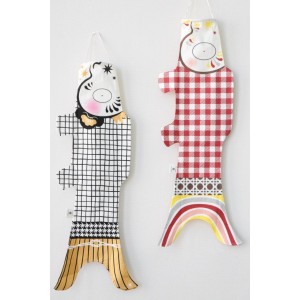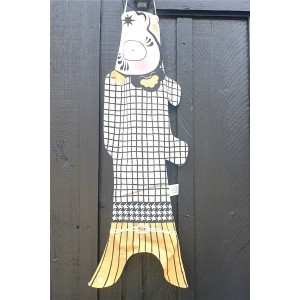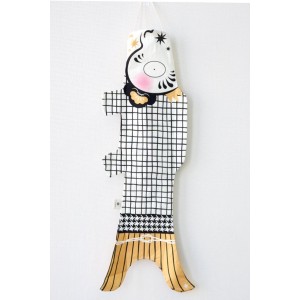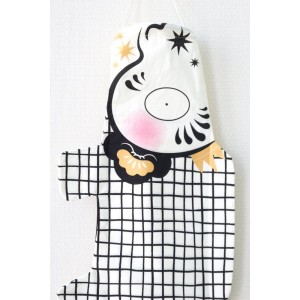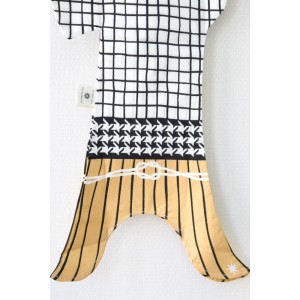 Black&White Koinobori (S)
Literally, a black checkerboard on a white background, sublimated by a generous touch of gold...The Black&White koinobori offers a pure, minimalist, timeless design that brings chic and relief to the rooms of small and big children alike. Madame Mo plays with the codes and takes the opposite of the shimmering tradition of koinobori! Proposed to the Japanese last season, this koinobori is already one of their favorites! It goes perfectly with the Koinobori Vichy.
FREE DELIVERY
From 60,00€ of purchases
100% SECURE PAYMENT
by credit card and Paypal
EXCHANGES AND RETURNS
within 14 days
More about the koinobori
The koinobori, carp-shaped windsock, is a mythical object in Japan: it is the gift that we offer to little boys, and more and more to little girls, at the children's party (Kodomo No Hi) May 5th.
Koinobori, an ethical and organic gift idea
This koi carp, made of organic cotton, is very popular among lovers of Japan. It represents a colourful and joyful nod to Japanese design. Madame Mo windsock is a wonderful ethical and chic birth gift, a stylish Japanese-inspired gift for all those, young and old, who love to decorate their world in a unique way.
Madame Mo and her poetic world, highly appreciated with Japanese
By making koinobori the only playground of her creativity, Madame Mo offers a real invitation to discover Japan, its culture and traditions. As incredible as it may seem, the Japanese love koinobori Madame Mo! Our carpstreamers play with strict Japanese codes, revisit the Japanese tradition in a modern way, and this gives birth to original, elegant and unique Koi carps. Every year, concept stores as selective as Isetan or Takashimaya do us a honor by selecting and exhibiting Madame Mo koinobori!
SIZE S - 70cm x 26.4cm
100% organic cotton
Machine washable 30°


FREE DELIVERY
From 60,00€ of purchases
100% SECURE PAYMENT
by credit card and Paypal
EXCHANGES AND RETURNS
within 14 days