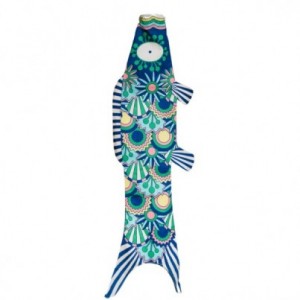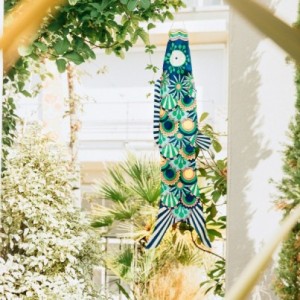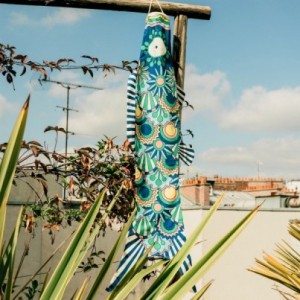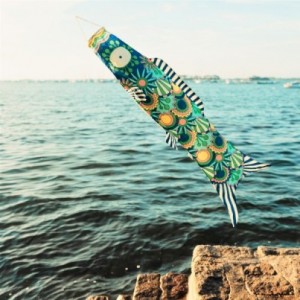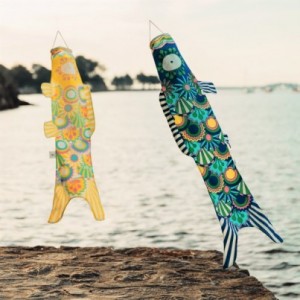 Tropical Navy by Yukari (M)
Oceanic, fresh and poetic, the Tropical Navy koinonori sublimates the decoration of a room, a living room, a terrace. Slipped into a very pretty and refined envelope, the Tropical Navy is a great gift, very decorative, very arty and meaningful: according to the Japanese tradition, giving a Koi carp (to a child) is to bring him courage, bravery and joy to welcome the adventure of life. So don't hesitate, reserve this windsock in the shape of a Koi carp to bring luck to the people you love!
FREE DELIVERY
From 60,00€ of purchases
100% SECURE PAYMENT
by credit card and Paypal
EXCHANGES AND RETURNS
within 14 days
This koinobori has its origins in a beautiful encounter made around Vintage Hanten (Japanese jackets) proposed by the fashion design studio Blue Yama. Yukari, co-creator of Blue Yama, is a Japanese woman, born and raised in the Japanese countryside with cows and a big family as she likes to say. After studying fashion in Paris, Yukari worked for many years for French luxury brands. Passionate about travel and vintage markets, she settled in Paris and co-created with Steve, her French Swedish business partner, Blue Yama, which compiles mix of cultures, and mix of old and contemporary.
Avec des étoiles dans les yeux, Yukari a spontanément proposé de créer une collection de koinobori pour Madame Mo sur le thème psychédélique et seventies. Ce koinobori honore la tradition du 5 mai, Kodomo Ni Hi, tout en affichant une approche design résolument originale, et singulière.
To explore the universe and news of Yukari, visit the following instagram account blue_yama_design and the website blue-yama.com
TAILLE MEDIUM - 100cm x 35cm
100% organic cotton
Machine washable at 30°.
FREE DELIVERY
From 60,00€ of purchases
100% SECURE PAYMENT
by credit card and Paypal
EXCHANGES AND RETURNS
within 14 days